Investing involves various strategies that one can use, including daily trading, DCA, and monthly buying for a long-term portfolio.
While some of these strategies work long-term, others only work for specific types of people or market scenarios, and many seem to be scams.
However, the Benner Cycle, created by Samuel Benner, has consistently proven to work over time, with a success rate of 90%. The Benner Cycle is based on the idea that the stock market moves in predictable patterns that can be forecasted.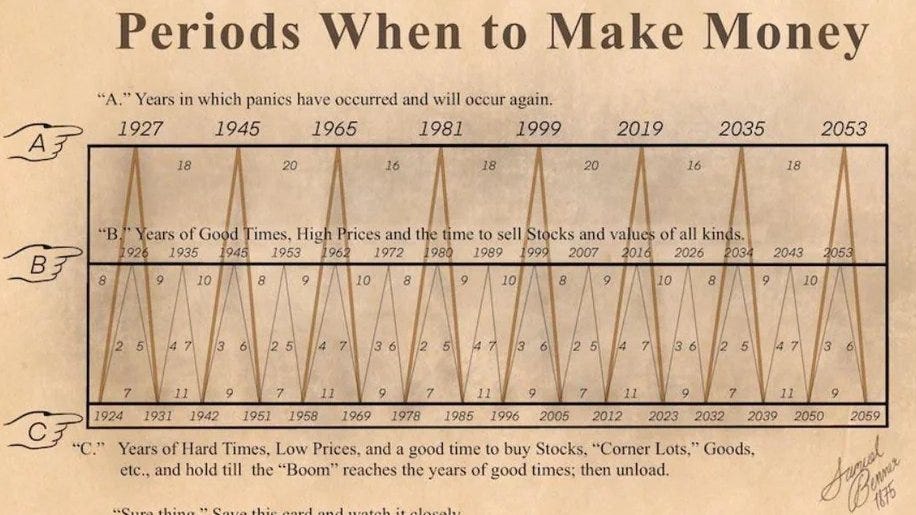 Benner discovered a cyclical pattern that repeats every four years, with each cycle consisting of a bull phase and a bear phase.
The bull phase is characterized by an upward trend, while the bear phase experiences a downward trend. According to Benner, each cycle lasts approximately 8.6 years, with the first four years being the bull phase, followed by the bear phase in the next four years. The cycle then repeats itself.
Benner's cycle predicted some of the most significant downturns in history, including the stock market crash of 1929, the dot-com bubble of 2000, and the financial crisis of 2008. His cycle has a success rate of 90%, far higher than most other investment strategies, making it an invaluable tool for investors who want to minimize their risk exposure and maximize their returns.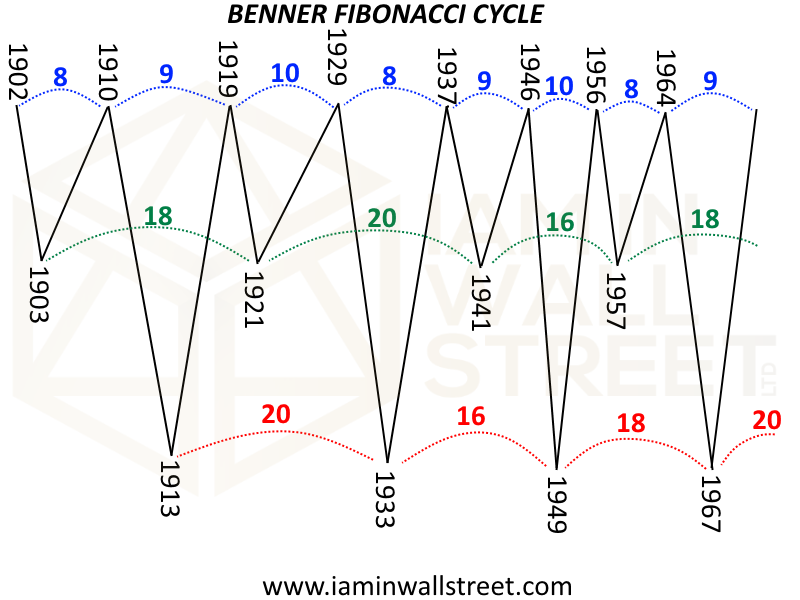 To take advantage of the Benner Cycle, one can buy individual stocks of companies that they believe will perform well in the coming years and index funds.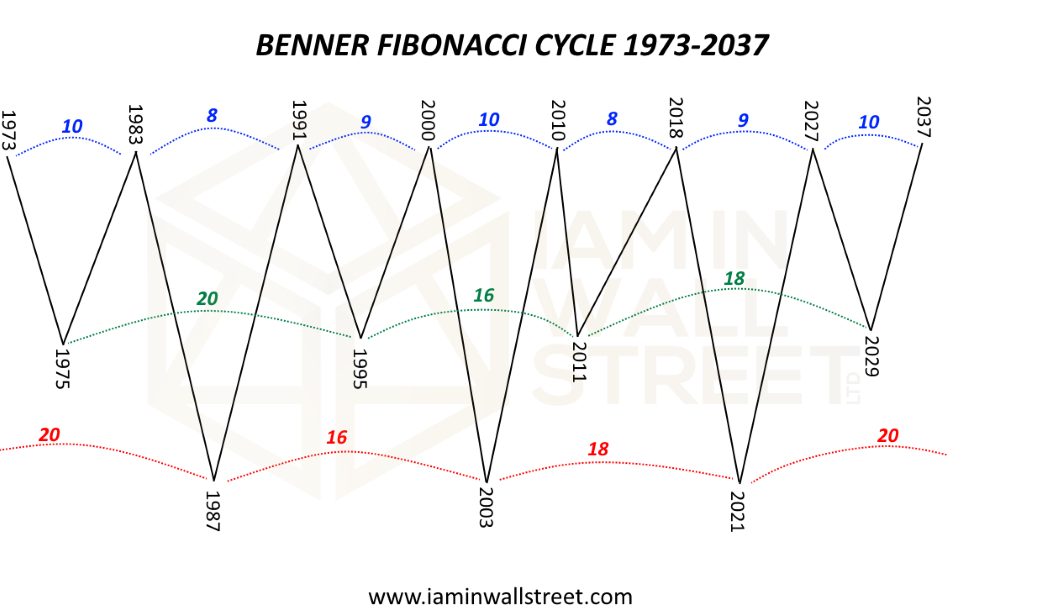 Regardless of price, one can buy a percentage of each portfolio every month and leave it there. The goal is to sell these portfolios in 2025 if they are at least 20% above the average cost price and wait until the bottom again with the money liquid or in safe investment options like high-yield accounts.
Subscribe For FREE Stock Insights!
And a chance to win free shares of stock.
Benner Cycle Portfolio With Synsense Advisor
Coming off our recent announcement of Synvestable's newest Premium feature—Synsene Advisor—we thought it'd be a great opportunity to bring Synsense into the discussion.
If you didn't catch the announcement this week, Synsense Advisor is our generative AI model available to Quant Annual Premium subscribers that is your personal assistant for financial insights and unique model portfolios ideas.
We posed the question to Synsense Advsior and asked how investors could best take advantage of it.
We also ran this prompt again to show that every time, Synsense Advisor will come up with unique and alternative ideas.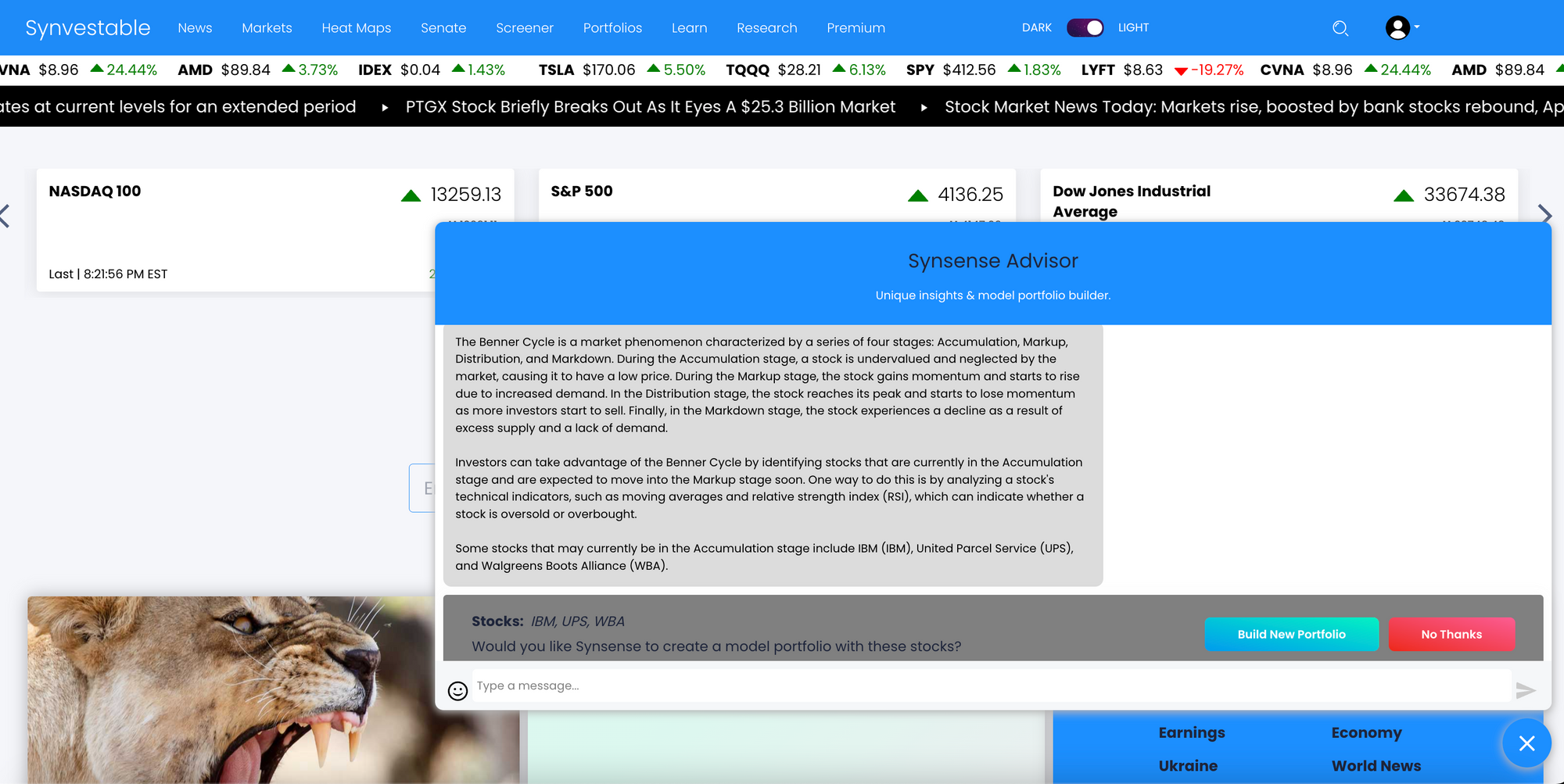 Q: Hey Synsense, what is the Benner Cycle and how can investors take advantage of it?
Synsense: The Benner Cycle is a market phenomenon characterized by a series of four stages: Accumulation, Markup, Distribution, and Markdown.

During the Accumulation stage, a stock is undervalued and neglected by the market, causing it to have a low price.

During the Markup stage, the stock gains momentum and starts to rise due to increased demand.

In the Distribution stage, the stock reaches its peak and starts to lose momentum as more investors start to sell.

Finally, in the Markdown stage, the stock experiences a decline as a result of excess supply and a lack of demand.

Investors can take advantage of the Benner Cycle by identifying stocks that are currently in the Accumulation stage and are expected to move into the Markup stage soon.

One way to do this is by analyzing a stock's technical indicators, such as moving averages and relative strength index (RSI), which can indicate whether a stock is oversold or overbought.

Some stocks that may currently be in the Accumulation stage include IBM (IBM), United Parcel Service (UPS), and Walgreens Boots Alliance (WBA).
The Benner Cycle Model Portfolio
We can take a further look into these three positions and see if there is indeed an opportunity, the profiles of each company are below, you can view each company on Synvestable and use the chart view and click the "Indicators" button on the chart to add the Relative Strength Index (RSI).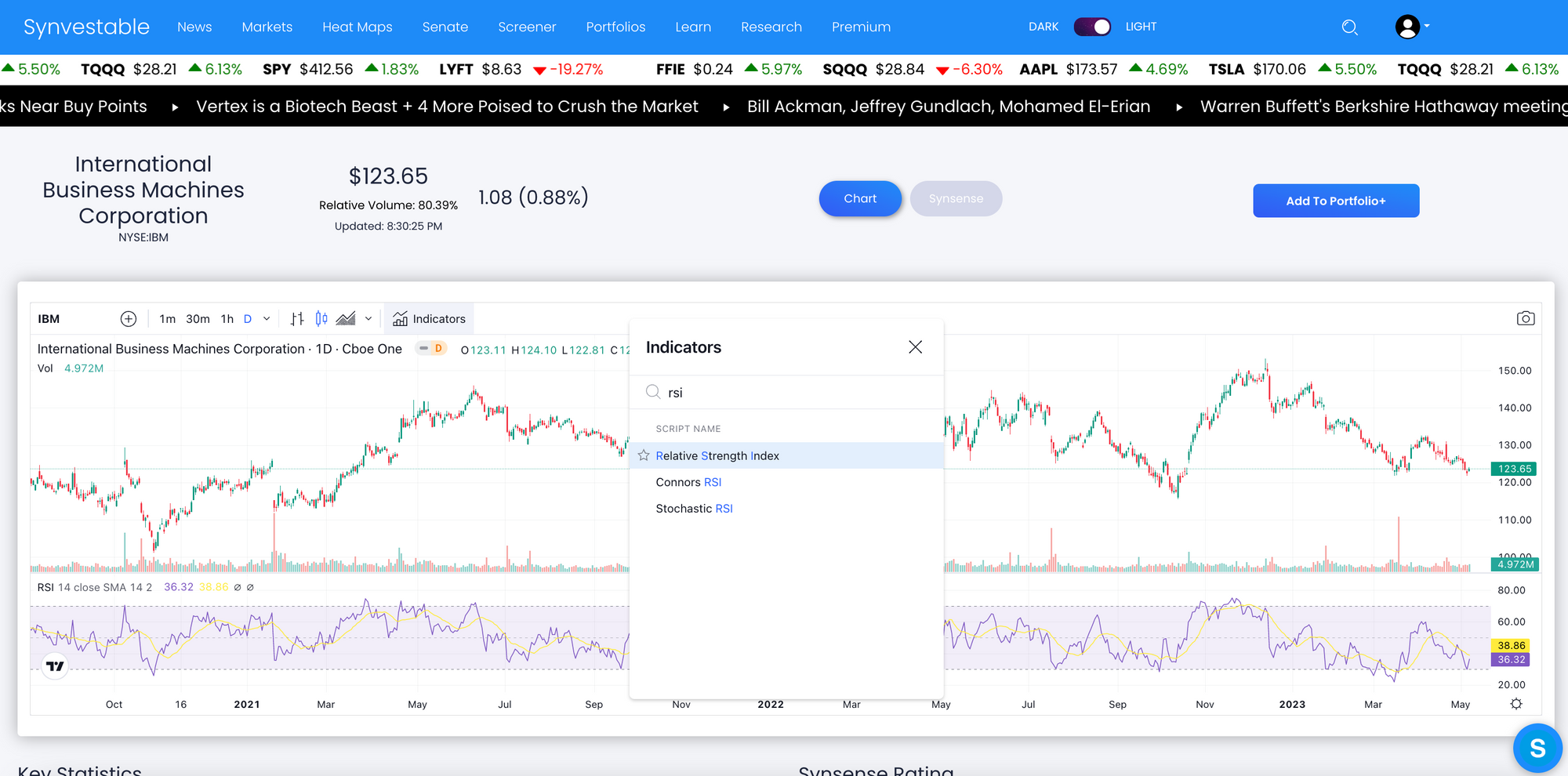 International Business Machines (IBM)
International Business Machines (IBM) provides integrated solutions and services worldwide. The company operates through four business segments: Software, Consulting, Infrastructure, and Financing. The Software segment offers hybrid cloud platform and software solutions, such as Red Hat, an enterprise open-source solutions; software for business automation, AIOps and management, integration, and application servers; data and artificial intelligence solutions; and security software and services for threat, data, and identity. This segment also provides transaction processing software that supports clients' mission-critical and on-premise workloads in banking, airlines, and retail industries.
United Parcel Service (UPS)
United Parcel Service (UPS) provides letter and package delivery, transportation, logistics, and related services. It operates through two segments, U.S. Domestic Package and International Package. The U.S. Domestic Package segment offers time-definite delivery of letters, documents, small packages, and palletized freight through air and ground services in the United States. The International Package segment provides guaranteed day and time-definite international shipping services in Europe, the Asia Pacific, Canada and Latin America, the Indian sub-continent, the Middle East, and Africa. The company also provides international air and ocean freight forwarding, customs brokerage, distribution and post-sales, and mail and consulting services in approximately 200 countries and territories.
Walgreens Boots Alliance (WBA)
Walgreens Boots Alliance (WBA) operates as a pharmacy-led health and beauty retail company. It operates through two segments, the United States and International. The United States segment sells prescription drugs and an assortment of retail products, including health, wellness, beauty, personal care, consumable, and general merchandise products through its retail drugstores. It also provides central specialty pharmacy services and mail services.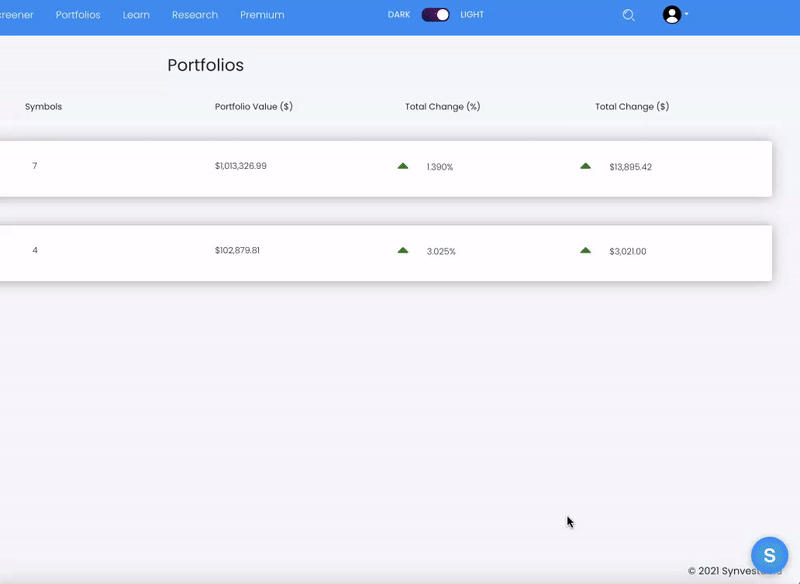 For more information on how to get access to the Synvestable's Synsense Advisor and build your financial future, check out our announcement and demo video!
Register For Free in Seconds! Click The Image
The absolute best app in finance. Register in 3 seconds using your Google Account!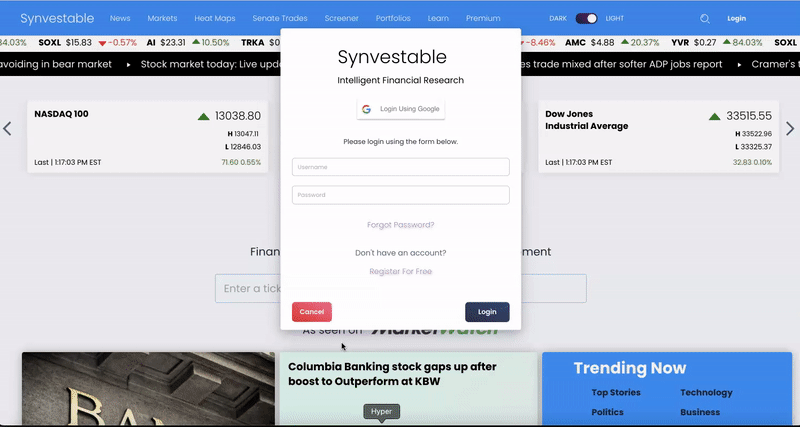 Subscribe For FREE Stock Insights!
And a chance to win free shares of stock.