It's no real secret that Congress likes to trade.
Whether you attribute it to intellect or having the inside edge on major industry moves before they happen, it's hard to ignore the one simple fact:
Many lawmakers are beating the market by a significant percentage every year.
Today we're going to take an inside look at just how well Congressional members have done relative to the overall market.
The Top Congressional Traders in 2021
A total of 35 members of Congress ending up beating S&P 500, including of 19 Democrats and 16 Republicans.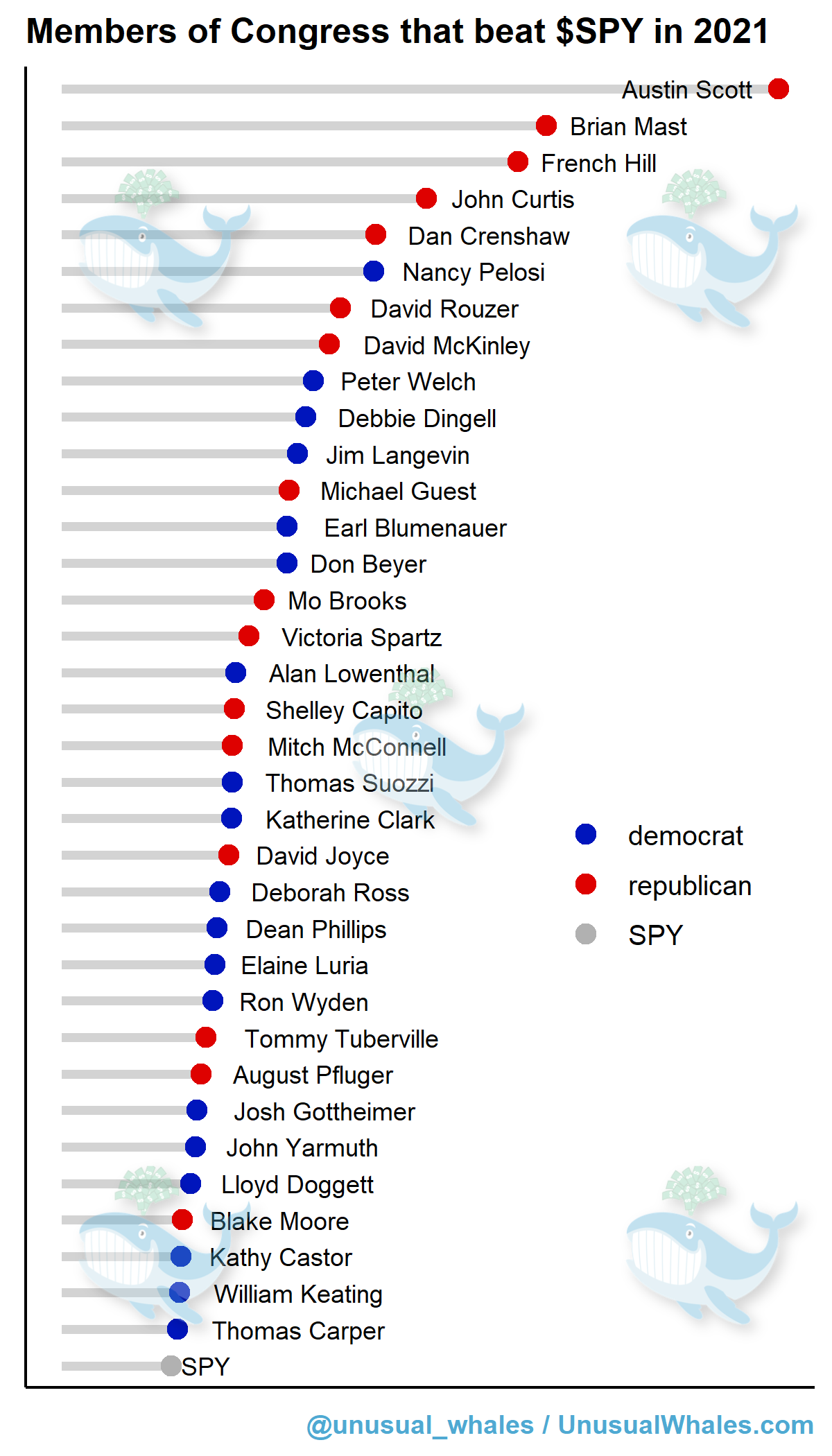 Elected officials can oftentimes find themselves privy to inside information. They are hearing testimonies and speaking directly to companies that are affected by potential legislation.
By continuing to trade directly or through surrogates, they open themselves up to perceived conflicts of interest.
Subscribe For Stock Insights!
And a chance to win FREE shares of stock.
The STOCK Act
The Stop Trading on Congressional Knowledge Act of 2012 (STOCK Act) was voted into law because of media reports of stock trading by members of the U.S. Congress during the 2008 Financial Crisis and the legislative debate on the Affordable Care Act in 2009-2010.
The STOCK Act expands disclosure requirements for all securities transactions made by members of Congress and senior federal officials. It also made clear members of Congress are subject to U.S. securities laws that forbids trading on material non-public information.
Many critics of the STOCK Act say that the act doesn't go far enough to restrict congressional members and that there is a still an informational advantage.
The Most Unusual Trades
To add more fuel to the critics arguments to strengthen the STOCK Act, there were some unusual trades that begs the question—are congressional members indeed trading on privileged information?
House Republican Brian Mast's Tilray (TLRY) purchase sale at its all time high in early 2021 (for returns of +563%) are the most interesting. Mast bought Tilray before voting in support of the Marijuana Opportunity Reinvestment and Expungement (MORE) Act in late 2020
In November 2021, Lockheed Martin (LMT) won a $10.9 billion contract to modernize the Air Force's F-22s. House Republican Kevin Hern, who sits on the House Committee on the Budget, bought Lockheed Martin stocks back in August. He bought $100,000 more in LMT just two weeks before the news was publicly disclosed.
House Democrat Kathy Manning sits on the House Committee on Foreign Affairs, disclosed that she had purchased $30,000 in Lockheed Martin stock on just two weeks before the the F-22 contract was awarded.
House Democrat Zoe Lofgren bought $15,000 in Lucid Group, Inc. (LCID) in October, which is now up 71%.
The U.S. Army first announced a $22 billion augmented reality deal with Microsoft (MSFT) on March 31, 2021 and reiterated its commitment to this partnership in October.  Speaker Nancy Pelosi, now up 160% on this trade, disclosed exercising 150 MSFT calls on March 19th, 2021.
During the same period, Senator Pat Toomey had drafted amendments for cryptocurrency regulation while holding those same cryptocurrencies.
Senate Republican Tuberville in July 2021 had disclosed his trading disclosures late, and it was discovered he had sold $15,000 in Microsoft (MSFT). This occurred ironically several weeks before the $10 billion JEDI contract awarded to MSFT was canceled. Tuberville also sat on the Senate Armed Services Committee, the committee responsible for scrutinizing the contract.
House Republican Pat Fallon, who sits on the sub-committee responsible for scrutinizing DoD contracts, had sold up to $250,000 in MSFT right before JEDI contract's cancellation
In July, House Republican Blake Moore disclosed buying up to $60,000 in RTX while sitting on the House Committee on Armed Services. Again, another house member trading shares of a company their subcommittee was supposed to be scrutinizing.
Subscribe For Stock Insights!
And a chance to win FREE shares of stock.
Tracking Congressional Trades
Whether congress should be further restricted from trading from the STOCK Act or not, we wanted to give open visibility to our users on what their elected officials are trading.
Which is why today, we are releasing a ***NEW FREE FEATURE*** on www.synvestable.com that actively allows you to track all trades by the U.S. House and Senate members.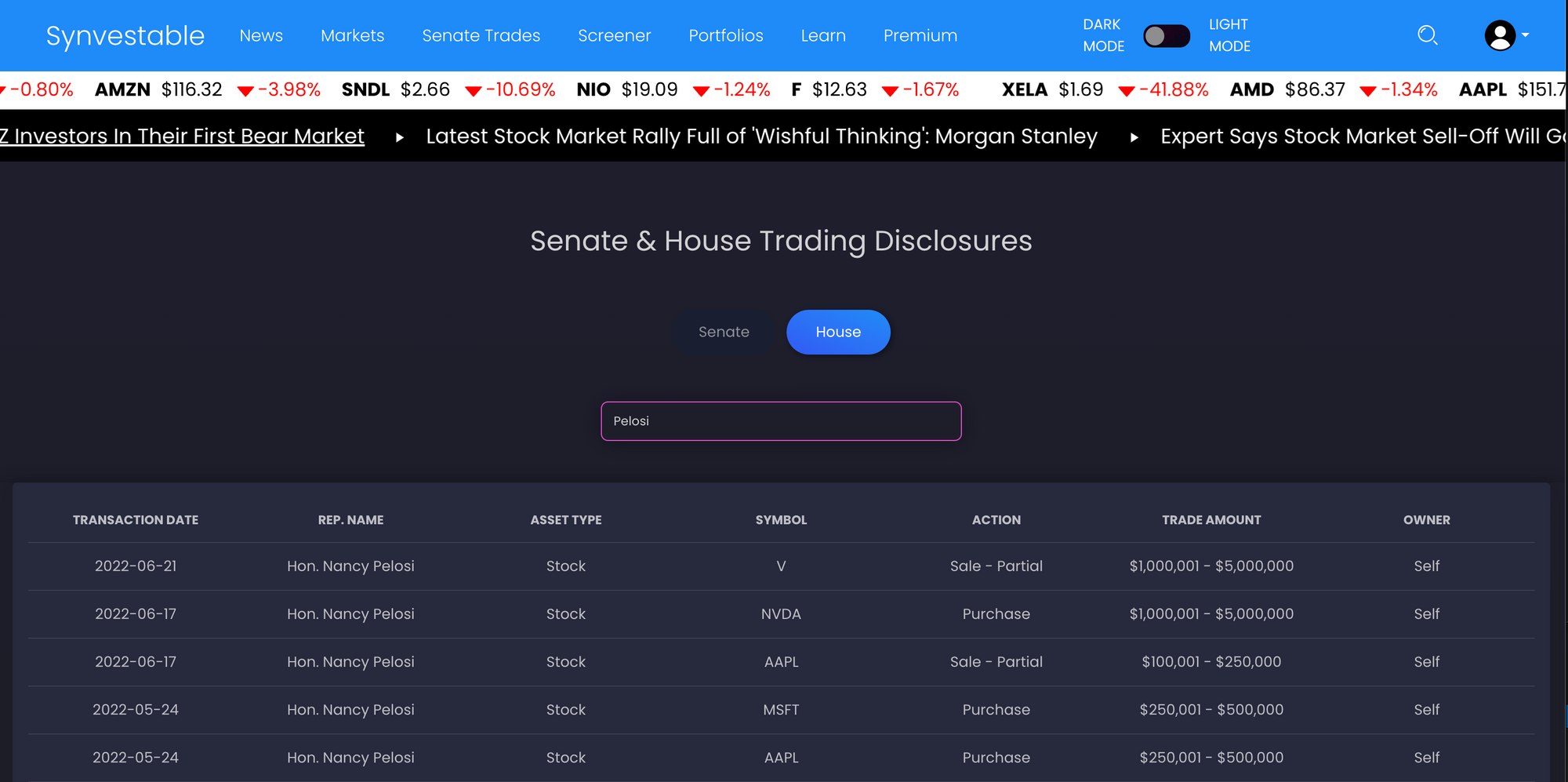 All you need to do is FREE REGISTERED MEMBER, and then click on Senate Trades in the navigational menu.

We already found some great companies we had never even heard of!
Register For Free in Seconds! Click The Image
The absolute best app in finance. Register in 3 seconds using your Google Account!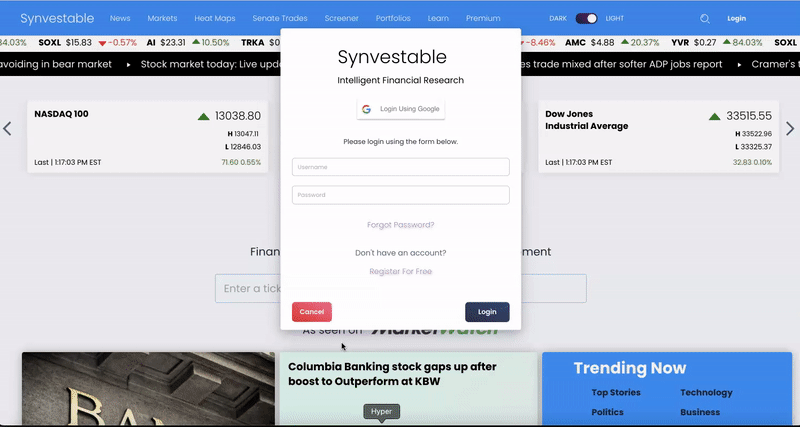 Subscribe For Stock Insights!
And a chance to win FREE shares of stock.
DISCLOSURE: Synvestable is a financial media provider only and is providing the above data for research purposes only. Please consult your financial advisor before investing as investing carries the risk for potential loss of capital. For more information, please consult our Terms of Use on www.synvestable.com