Today the market opened in some pretty bearish territory. In periods of extreme bearish sentiment, interesting opportunities can reveal themselves for the savvy investor.
One of the more interesting opportunities that can reveal themselves are stocks that zig when others zag. Traditionally, the beta of a stock tells us how a stock is typically going to move relative to the overall market. However, as beta can be an indicator, it's not a silver bullet.
Oftentimes, stocks can break correlation to the overall market which can deliver interesting buying opportunities for portfolio protection.
Most portfolios are correlated to the overall market in some way, so whenever we can add positions to our portfolio that allow us to reduce some of those correlations with quality companies, ultimately we can help reduce maximum drawdowns in long-term bearish markets like these ones.
Heatmaps To The Rescue

One of the newest features for premium members of Synvestable are market heatmaps.
These heatmaps look deep into every major index to show you exactly how the index companies moving relative to each other. In extremely bearish days like today, we can find anti-correlations that may help our portfolios stave off some drawdown in bear markets that we expect to persist.
Looking at the S&P 500 heatmap this morning, we wanted to highlight how you can use heatmaps too to find great anti-correlated opportunities to pad your portfolio in longer trending bear market environments.
Here are three great companies that have broken correlation to the overall market and are rising today that might warrant being added to your portfolios or watchlists.
Subscribe For FREE Stock Insights!
And a chance to win free shares of stock.
Elevance Health, Inc. (ELV)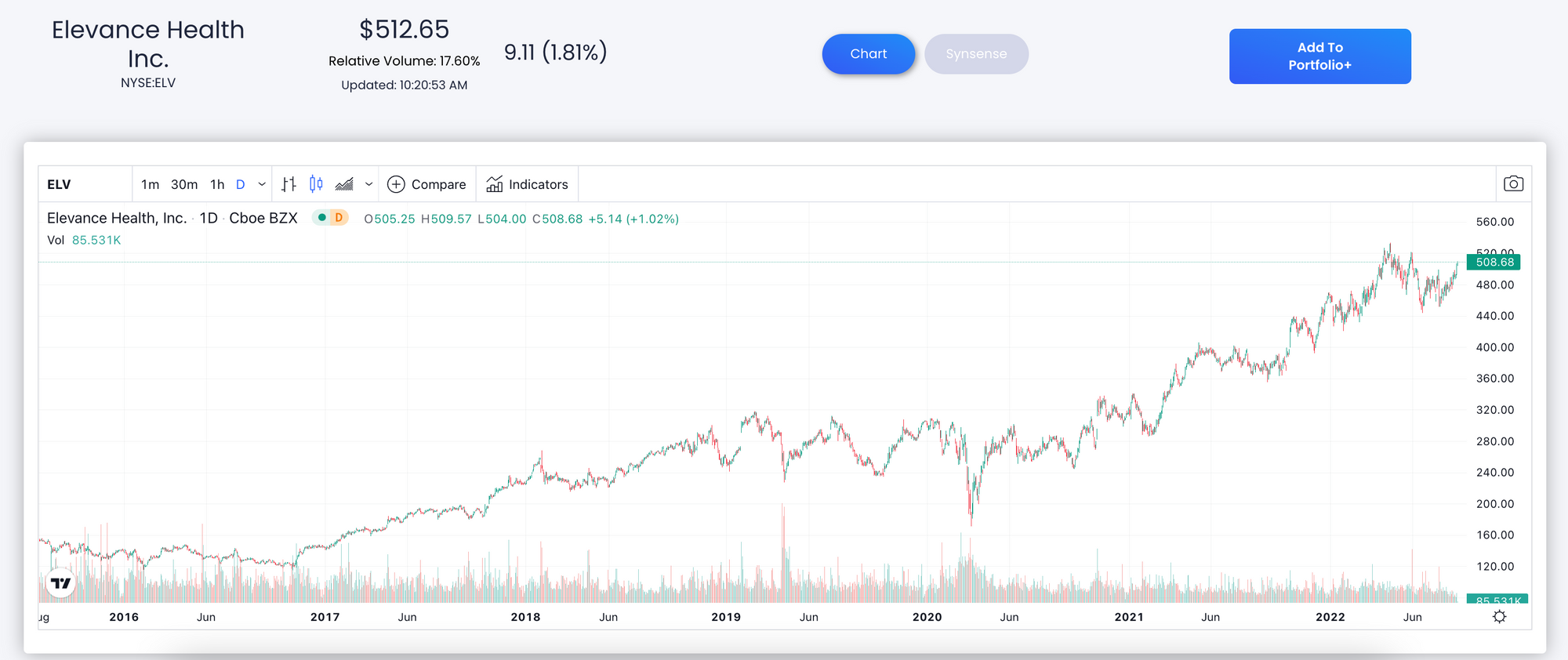 Elevance Health Inc. operates as a health benefits company and serves approximately 118 million people through a portfolio of medical, digital, pharmacy, behavioral, clinical, and care solutions.
Elevance boasts a high return on equity of 17% and has been beating Wall Street earnings estimates quarter over quarter for the last six quarters.
CF Industries Holdings, Inc. (CF)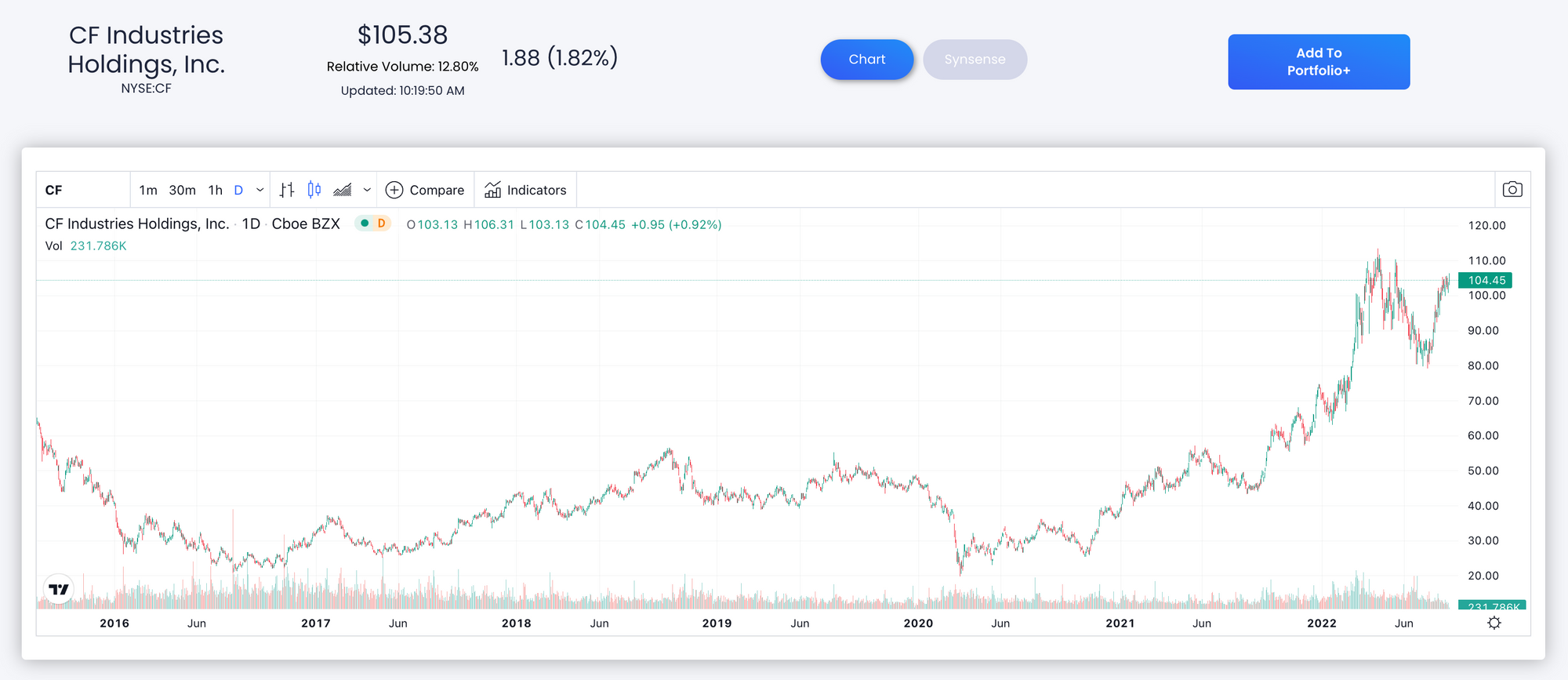 Founded in 1946, CF Industries Holdings, Inc. manufactures and sells hydrogen and nitrogen products for energy, fertilizer, emissions abatement, and other industrial activities worldwide. Its principal products include anhydrous ammonia, granular urea, urea ammonium nitrate, and ammonium nitrate products.
You'll find a massive return on equity of 69.71% here, a huge 36.25 % return on capital, a low P/E ratio of 8.61, and dividend yield of 1.33% for extra downside protection.
The Mosaic Company (MOS)
The Mosaic Company produces phosphate and potash crop nutrients internationally and operates mines which produce concentrated phosphate crop nutrients. It also produces phosphate-based animal feed ingredients primarily under the Biofos and Nexfos brand names, as well as produces a double-sulfate of potash magnesia product under K-Mag brand name.
The Mosaic Company is currently trading at a notably low P/E ratio of 6.12 and holds incredible profit margins and returns on capital. It's also trading below the current analyst price target consensus.
Looking Ahead
It's starting to look like the recent 18% bull run from June was in fact a bear market rally, so now may be a great time to be finding the stocks that zig while others zag, Synvestable's Heatmaps can help you do that.
To find great companies and opportunities up-to-date heat maps on every major index, check any of our Premium Plans on Synvestable.com
Register For Free in Seconds! Click The Image
The absolute best app in finance. Register in 3 seconds using your Google Account!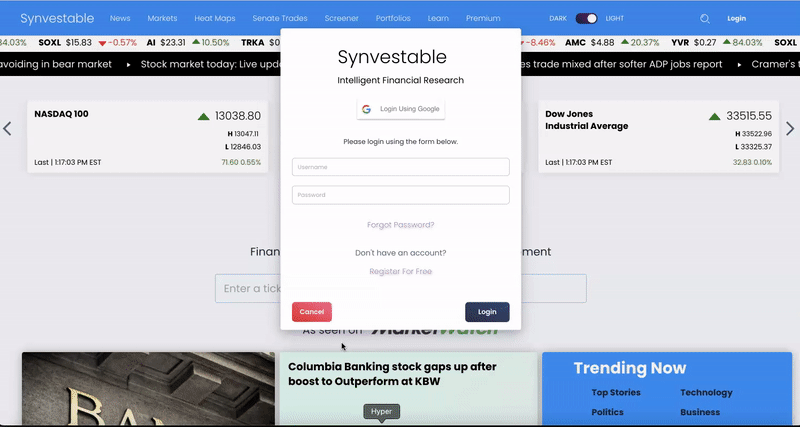 Subscribe For FREE Stock Insights!
And a chance to win free shares of stock.
DISCLOSURE: Synvestable is a financial media provider only and is providing the above data for research purposes only. Please consult your financial advisor before investing as investing carries the risk for potential loss of capital. For more information, please consult our Terms of Use on www.synvestable.com