WWF Stock Ignites With Massive Surge, Sends Shockwaves — What Now?
The internet is buzzing about the UFC flying off the top rope to acquire WWF stock, now known as the World Wrestling Entertainment (NYSE:WWE) which made us wonder—is the stock a long-term buy?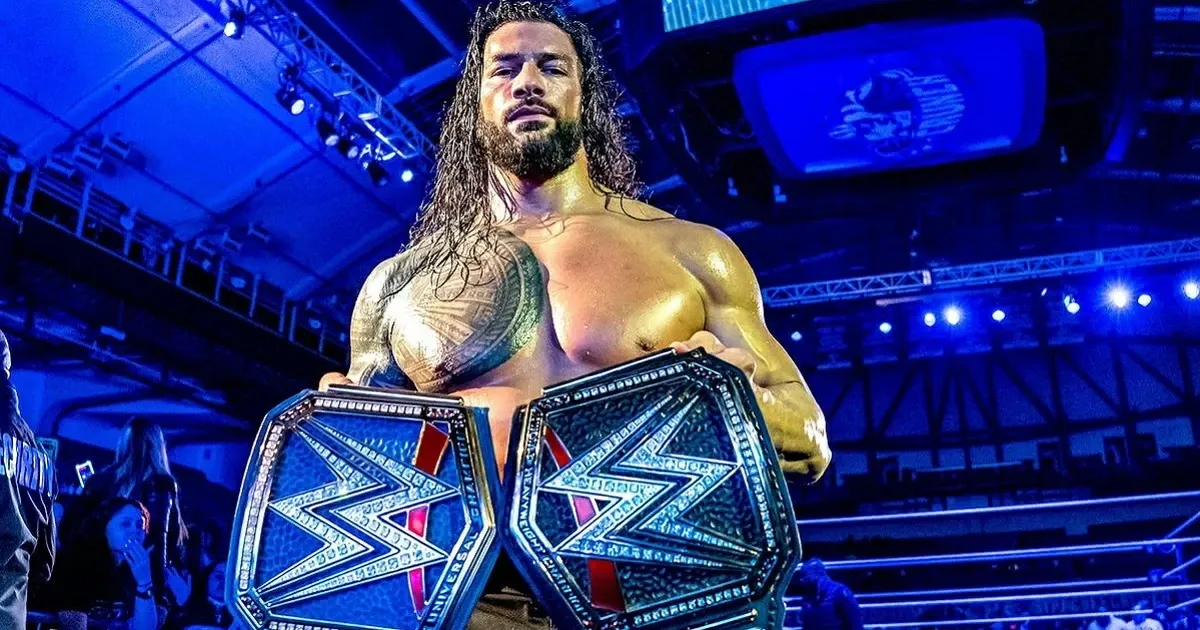 Why The Stock Soared
Endeavor Group Holdings Inc (NYSE:EDR), the parent company of the well-known UFC mixed martial arts franchise, announced  its intention to acquire entertainment firm World Wrestling Entertainment Inc in a deal worth $9.3 billion.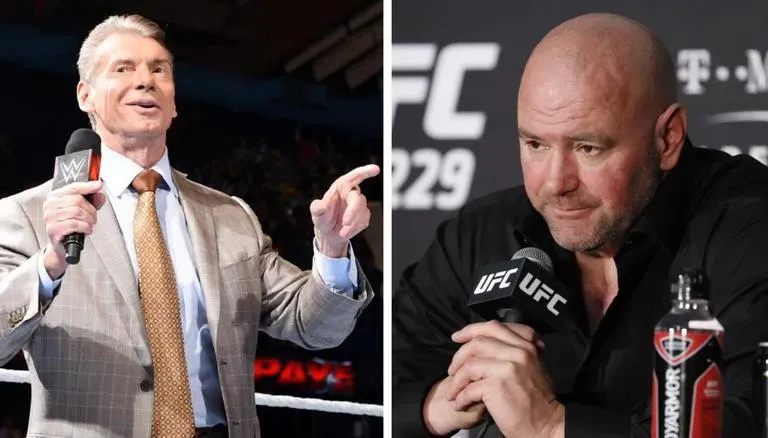 Endeavor stated that the agreement values wwf stock at approximately $106 per share, representing a 16% increase over the stock's closing price.
As part of the arrangement, Endeavor shareholders will hold a majority stake of 51% in the combined company, while WWE shareholders will retain 49%. Before the market opened, WWE shares experienced a 4.5% decline, while Endeavor, led by influential figure Ari Emanuel, saw a 4% increase.
In January, WWE disclosed its plans to explore strategic alternatives, including a potential sale, shortly after the return of long-standing CEO Vince McMahon as the executive chairman of the company. To assist with the review process, WWE enlisted the services of Raine Group and law firm Kirkland & Ellis as advisors.
Given this news, we decided it'd be interesting for us to take a deep-dive into WWE to see what the opportunity may look like for a place in our portfolio.
Using a basic free account on Synvestable, here's what we discovered.
WWF Stock Fundamentals
Just using the company page for WWE, we can get immediate snapshot of the current opportunity around wwf stock.

The first things we noticed were centered around its key financial ratios.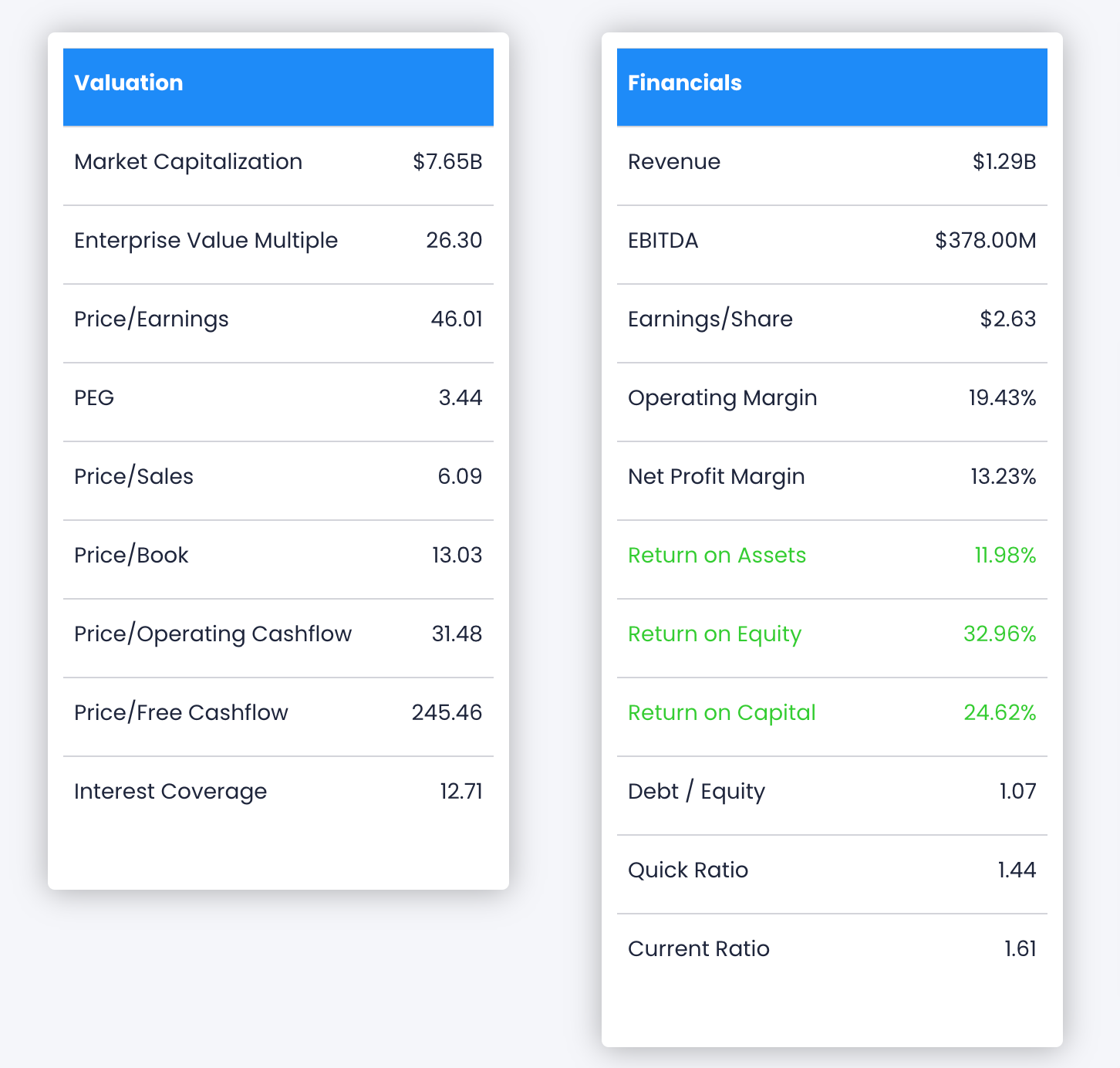 WWE boasts some pretty impressive margins, including high returns on assets, equity, and capital. It also has a great capital structure based around low debt and high interest coverage, which means it's financially sound for long-term longevity.
However, one thing that was concerning was both its price to earnings ratio and price to free cashflow. Both of these ratios are astronomically high, suggesting that WWE's acquisition price of $106 per share has a premium built into it that is not supported by its fundamentals.
Scrolling down further, we see some other concerning factors.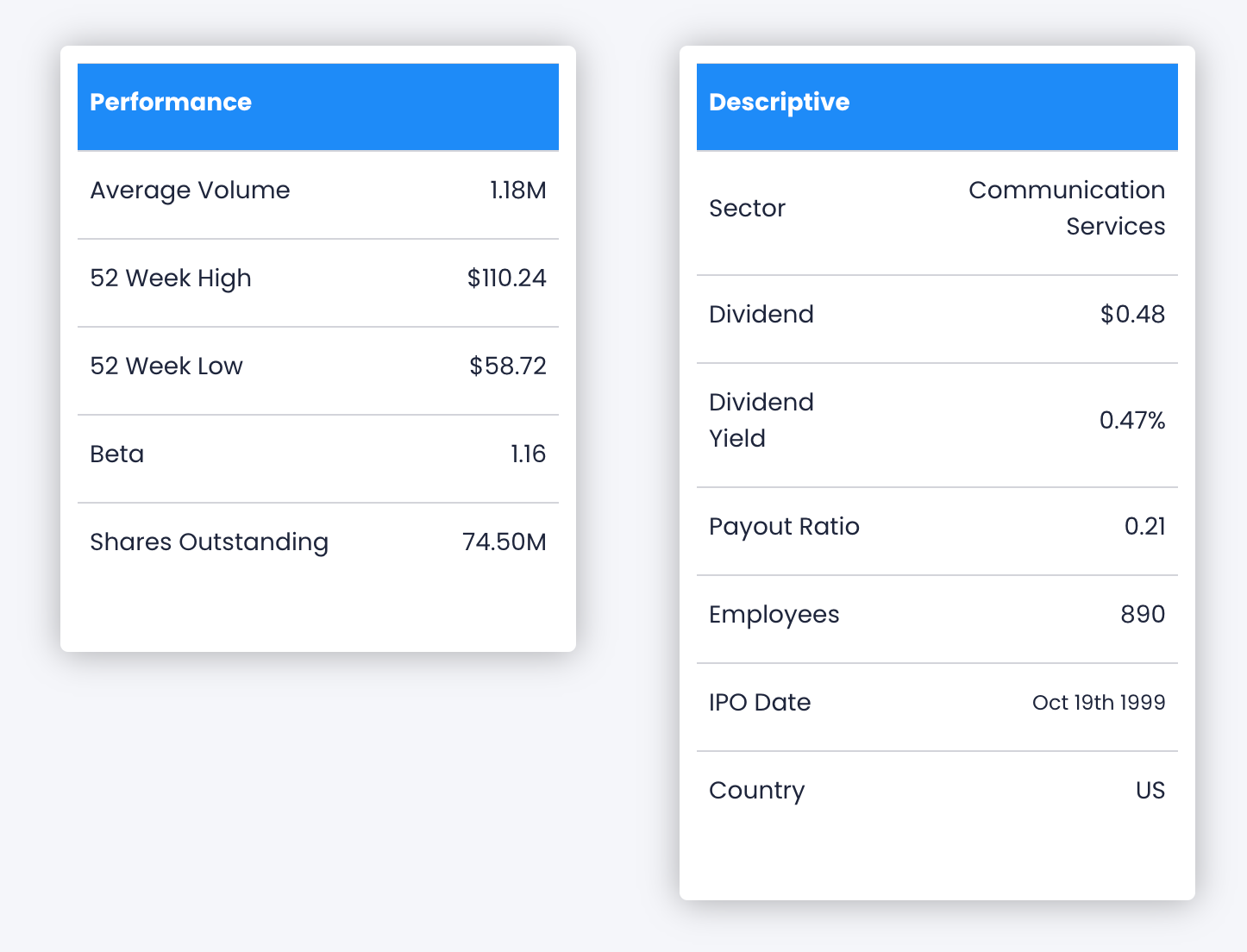 At the current price of $102, we're already very close to the 52 Week High of WWF stock, which means the stock may have already had its run. A very low dividend ratio combined with a high price to earnings ratio means that this stock is purely about capital gains and continuing momentum, all the makings of a growth stock.
Subscribe For FREE Stock Insights!
And a chance to win free shares of stock.
WWF Stock Financials
Over the long-term we can certainly see WWE's growth story playing out in it's annual financials. Revenue and gross profit have been on the up-trend since emerging from the pandemic as crowds returned to public events.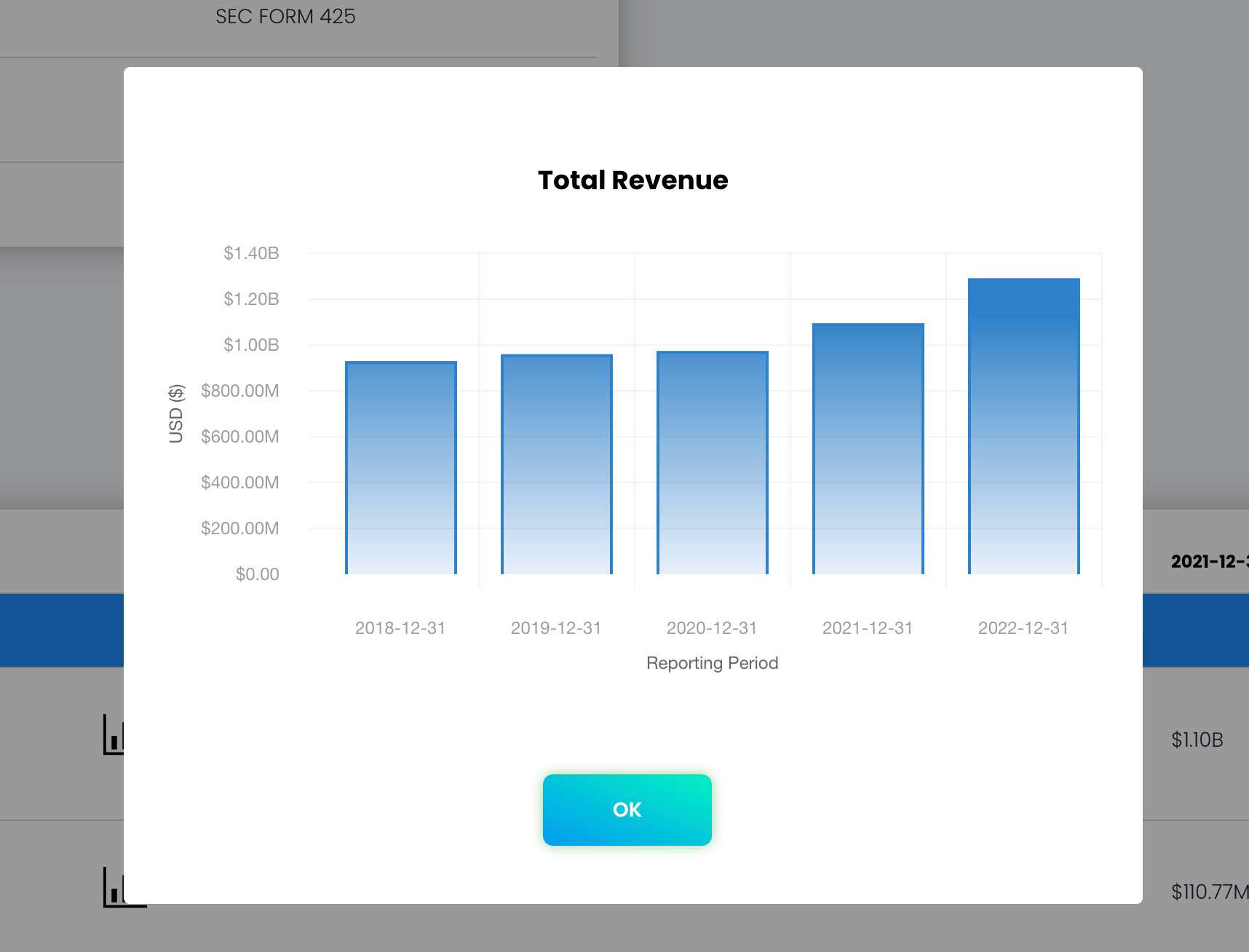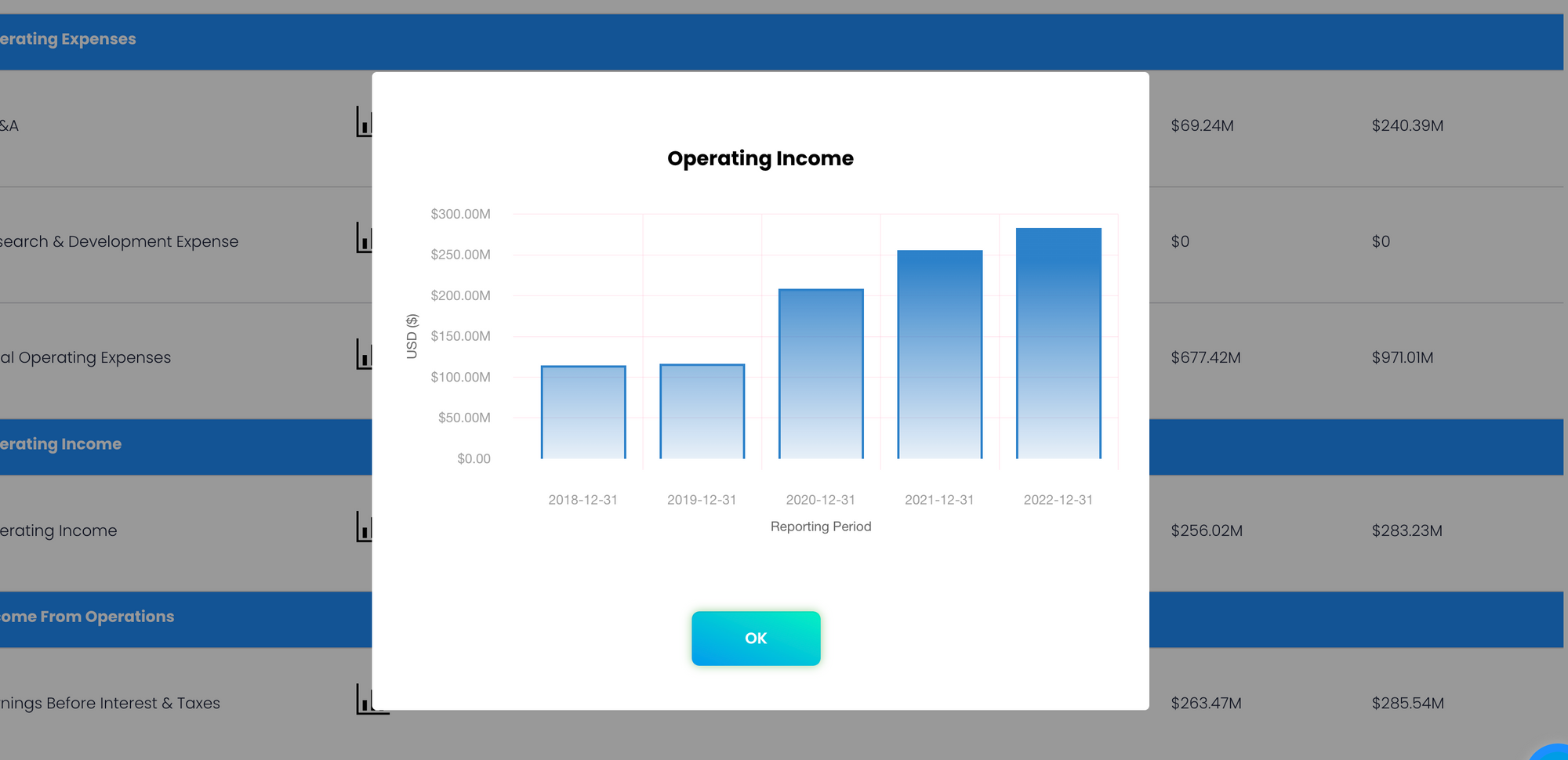 We're also seeing continuing growth in stockholder equity, suggesting that shareholder value is being added consistently over the long-term.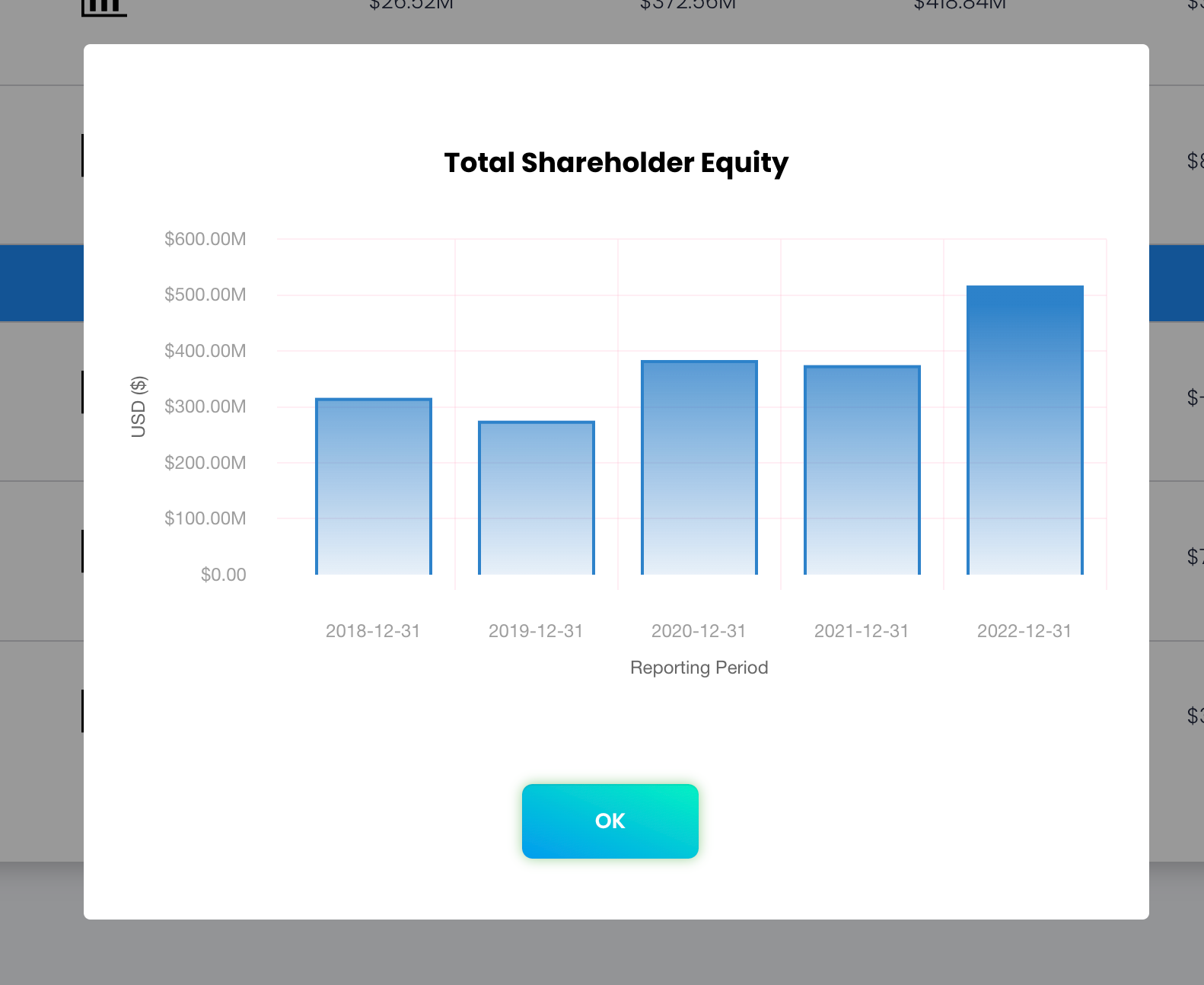 WWF Stock Earnings & Insiders
We do see some concern with WWE's earnings momentum.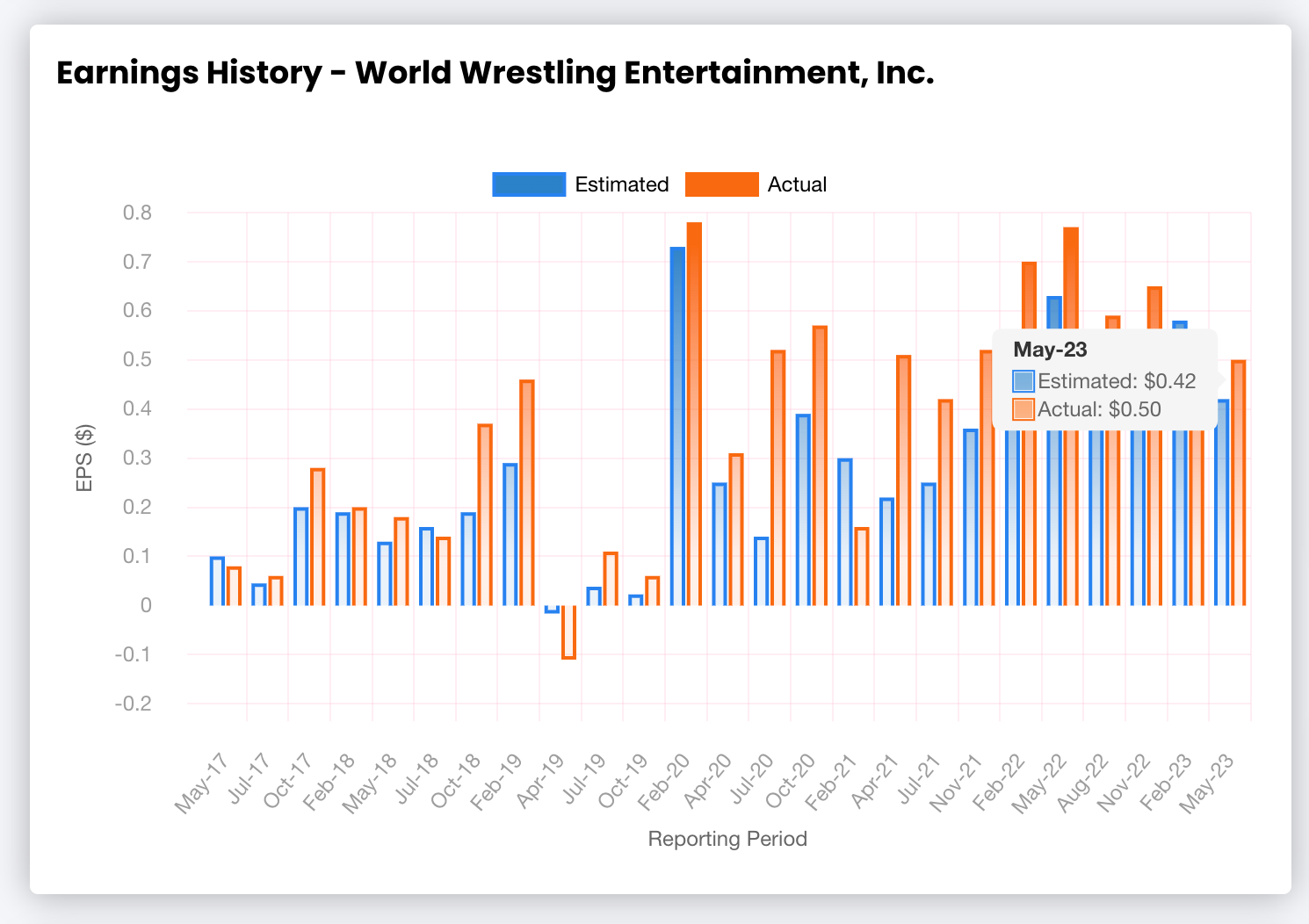 While the long-term trend for WWE is certainly up, we can see that we're in the midst of an earnings contraction, most likely related to the the overall economy right now.
Morgan Stanley's Mike Wilson recently commented that Morgan Stanley is expecting a 16% earnings contraction in corporate earnings to play out for the remainder of 2023 and we can see that theme playing out in wwf stock.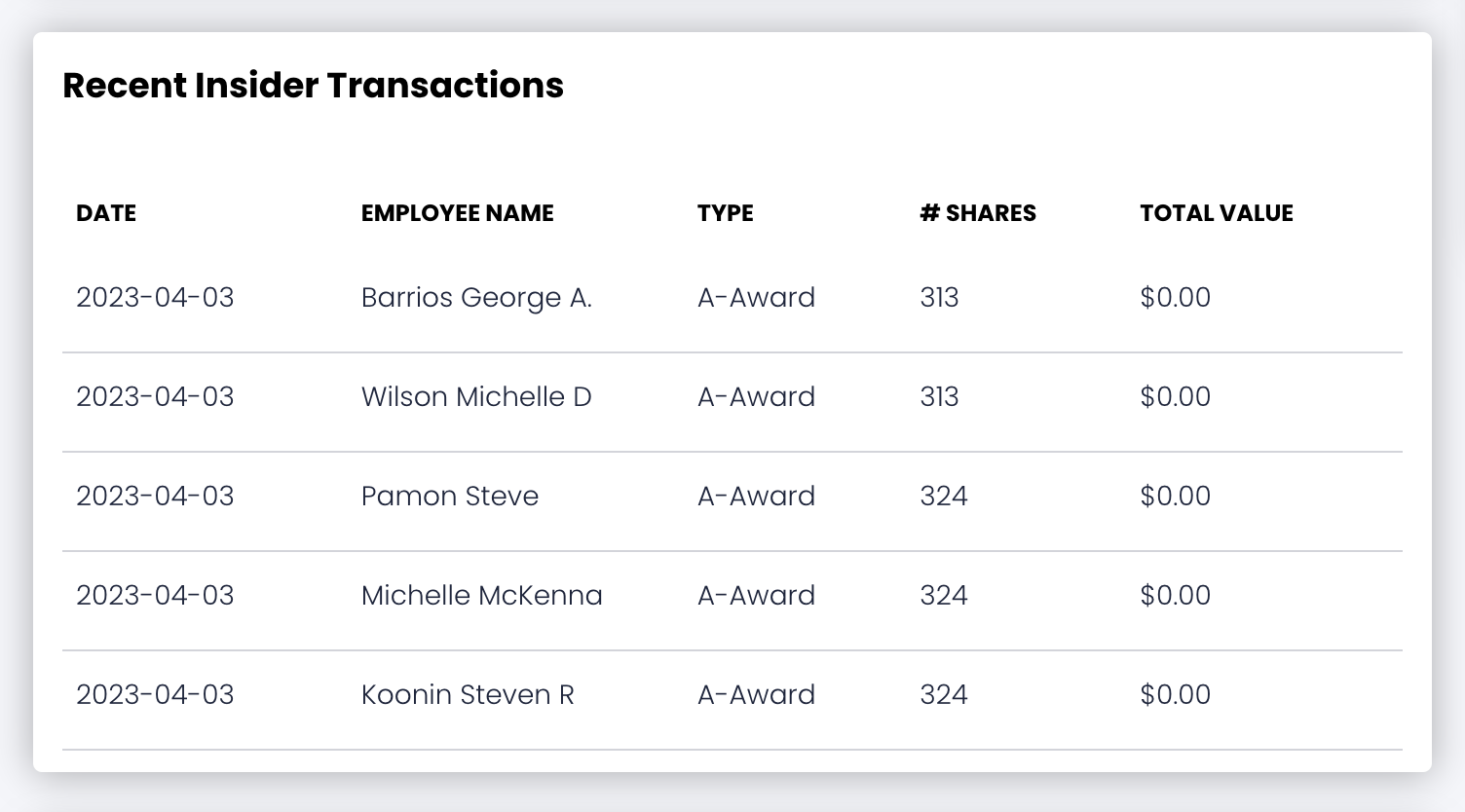 We also see that insiders in the company are not currently buying the stock in the open market but rather just receiving awards as stock based compensation. Stock-based compensation is dilutive to current shareholders and puts short-term pricing pressure on the stock.
Subscribe For FREE Stock Insights!
And a chance to win free shares of stock.
WWF Stock Analysts & Price Targets
Looking at the price targets of WWE, we can see we're definitely at the top range of where analysts are expecting the stock to go.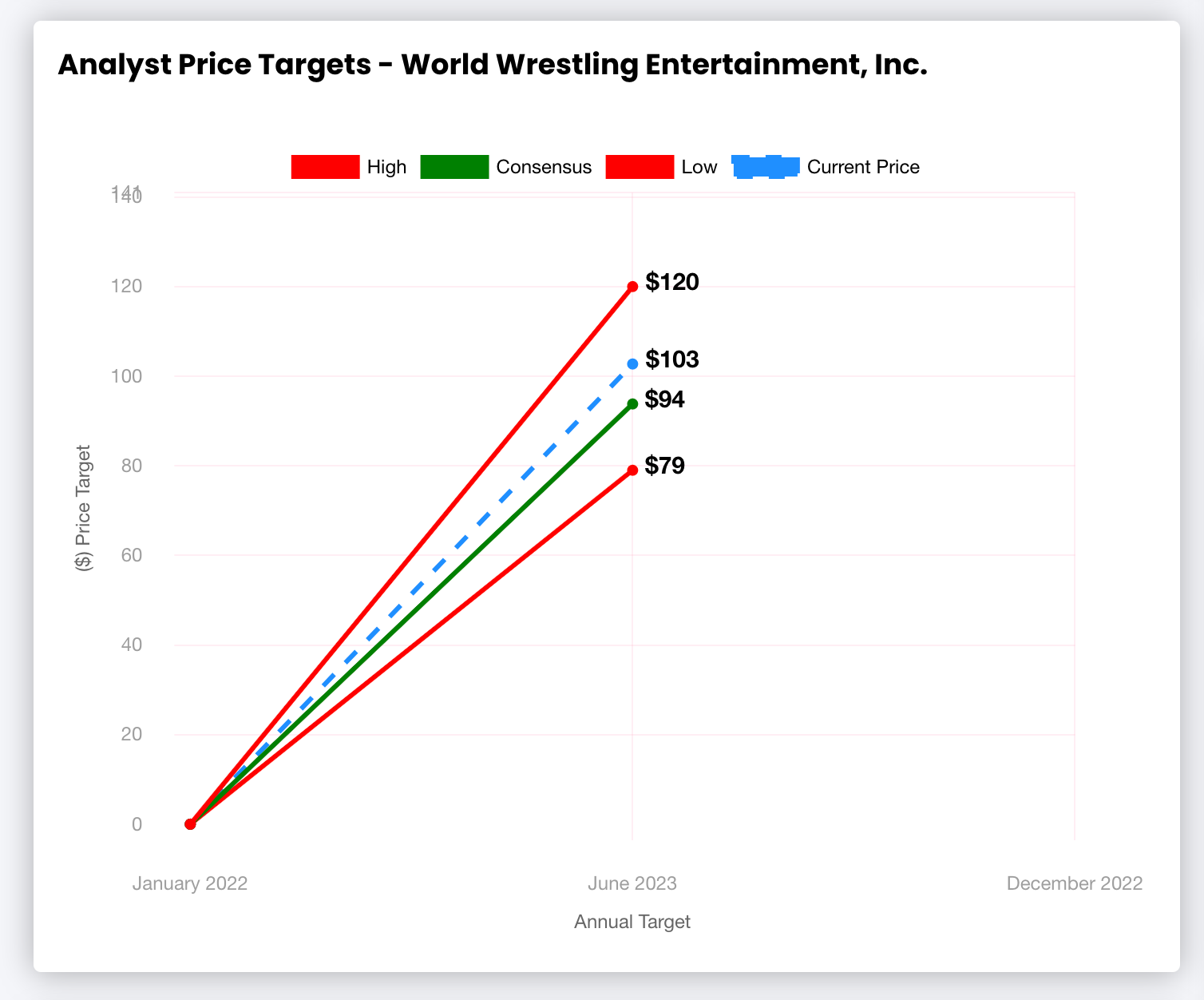 With the consensus price target below the current price, we can see why most bank analysts are recommending a hold on the stock here.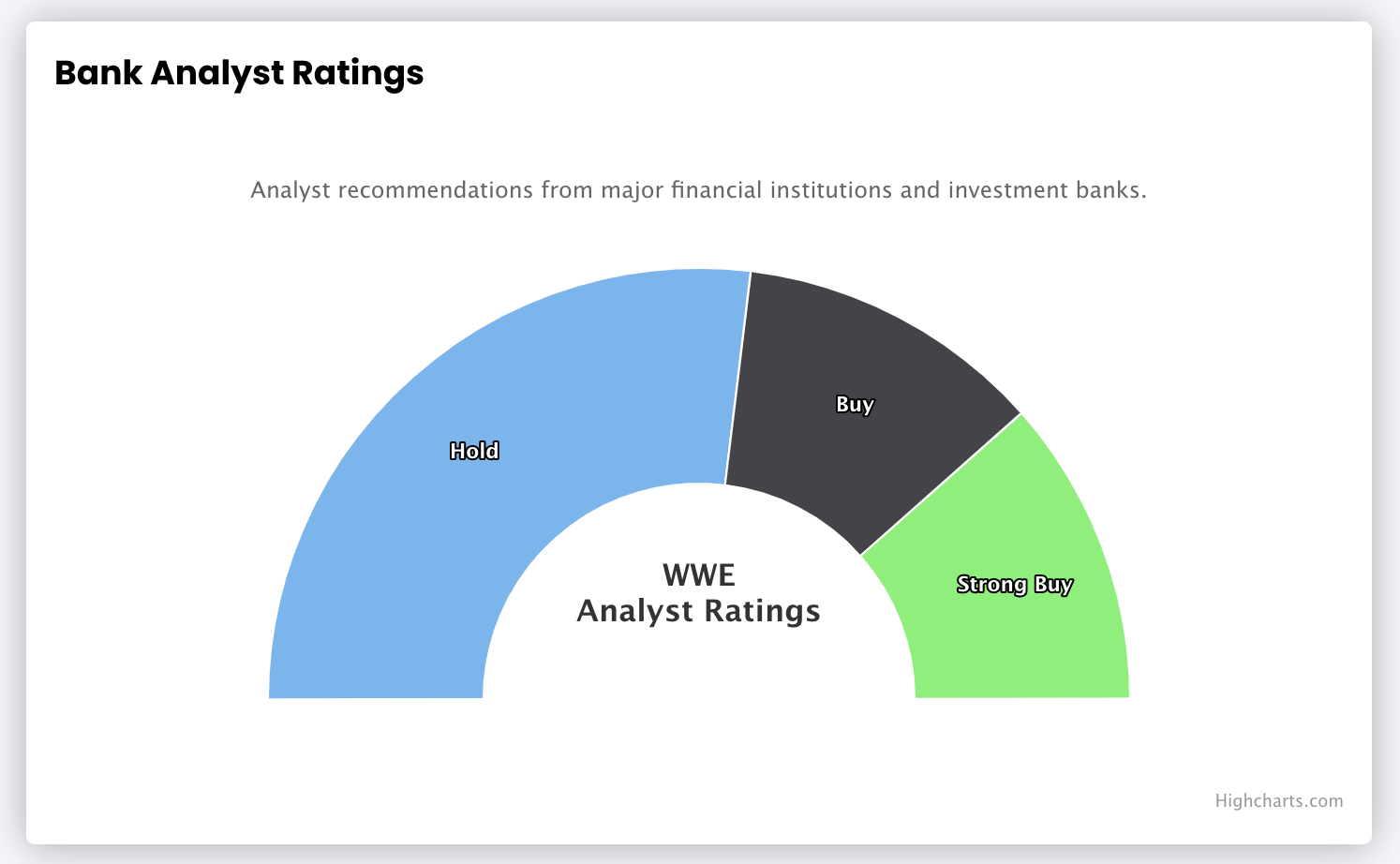 Basically, if you've taken on some WWF stock already, it may be beneficial to continue to ride out the rally as the S&P 500 carries the stock higher.
However, if you don't already currently have exposure, price targets suggest waiting until a downward correction may be a more risk-adjusted approach.
Our Conclusion

The collaboration between WWE and Endeavor opens up exciting possibilities for cross-promotions and joint efforts in cultivating emerging talents.
The partnership offers promising prospects as WWE's proficiency in marketing and entertainment can enhance the brand recognition and media presence of UFC fighters. Similarly, Endeavor Group's expertise can provide WWE stars with increased exposure and opportunities.
While long-term investors may perceive the merger as advantageous, it is prudent to adopt a wait-and-see stance to gauge the emergence of synergies and cash flows that will shape the future of the combined entity.
Both organizations prioritize the crucial objective of nurturing new talent and cultivating stars.
WWE and UFC undeniably hold dominant positions in their respective sports. However, the presence of formidable competitors like Bellator and One poses a challenge for UFC's supremacy.
Nevertheless, exercising caution is advisable when it comes to purchasing shares at this time. It would be prudent to observe the progress of synergies and their effect on cash flows over several quarters before making any investment decisions. This approach will provide a clearer understanding of the potential outcomes and future prospects resulting from the merger.
Register For Free in Seconds! Click The Image
Did you enjoy this analysis? It was super easy to do using a free account on Synvestable, the absolute best app in finance.

Register in 3 seconds using your Google Account!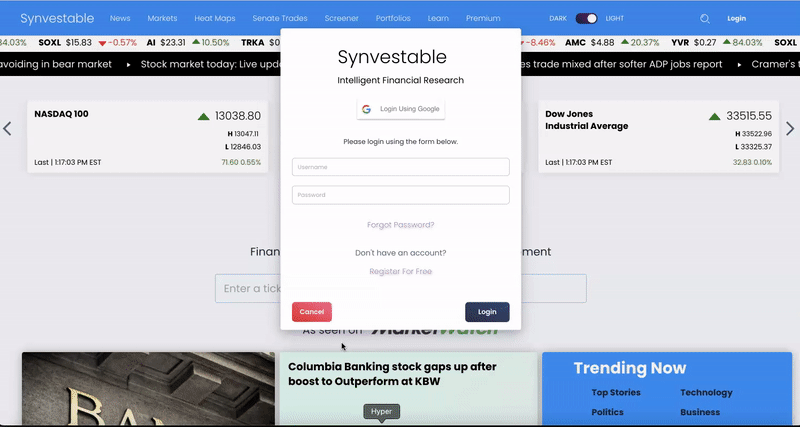 Subscribe For FREE Stock Insights!
And a chance to win free shares of stock.